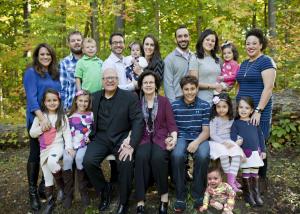 In 2017, Fr. George Shalhoub, pastor of The Basilica of St. Mary
[3] in Livonia, Michigan, will be celebrating his 45th anniversary of the ordination to the holy priesthood, as well as his 45th wedding anniversary. Throughout these years, he and Khouria Nouhad have served this community, tirelessly and faithfully. His parish recently released this interview with Fr. George.
Q: What are your thoughts as you celebrate your 45th anniversary in our community?
A: We thank God for His guidance that made us grow older, wiser and more patient. Forty five years is almost half a century. Did we know where we were going to be 45 years ago? No, and even though we started out homeless with no church, no family and no community, we never felt hopeless.
Q: How were you able to build a community at the young age of 21, newly married and ordained a priest one week later?
A: When you are young, you think you know it all, understand all and are bigger than life, stubborn and green. If you stay that way, you remain immature. I was blessed to have in my life men and women, priests and bishops as role models. They were, in reality, directing the ship. We were all in the ship with Christ as the Captain.
Finding a community and the people were not the most difficult tasks. You will find one another. The most difficult task was to understand and embrace what the people were all about. I learned who they were, where they came from, and about their cultures and needs as Christians, as immigrants and as a community in general. Our community grew from devoted and sincere men and women whom God placed in our life. Even though there were only a few families with no plans for the future, there was an excitement in the air.
I am sure that as a young priest I did not offer the best answers. But in reality, the people were the ones that answered my prayers. Even though some details were probably misse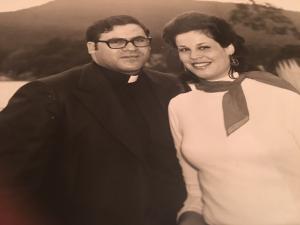 d, somehow things always worked out, because we had the simple faith that God would provide. As the Scripture says, "Yet you, Lord, are our Father. We are the clay, You are the potter; we are all the work of Your hand." (Isaiah 64:8) We very much recognized it was in our nature to be molded by God and trusting in God and the unity of our mission was the focal point. "Do your best to present yourself to God as one approved, a worker who does not need to be ashamed and who correctly handles the word of truth." (2 Timothy 2:15)
I was the priest, but the real leaders were the men and women who enabled and embraced us as their son and daughter and like all children, parents have to put up with youthful behavior and misbehavior and I had my share. The community became our parents and provided us with all our needs and instruction. And we plodded along.
Q: What do you think are your greatest weaknesses and failures?
A: One of my greatest challenges that brought about many weak moments was being a husband, a dad, and a priest at such a young age. I strived to do better, be better, and lead better, by asking my children, "What would you like me to do?" Or, by asking other priests how to become a pastor. I looked towards my wife Nouhad for guidance. She was the mature one and she often helped to guide me as a parent.
Another weakness I felt was not being able to be there for everyone or to save the world. I later learned that this was not my job, but for Christ and God alone. I was also impatient at times, and maybe said the wrong things in meetings or from the pulpit. We did not go to school to become parents or priests. All the education in the Seminary gives an academic foundation, but it does not make you a good pastor, especially if you fail to love God and your people. I am glad that some people called me naïve. This provided me the blessing of not thinking wrong of people and not judging them. I have always believed in everyone, even if they were not truthful to me, which led me to make the right decisions.
Q: What do you think your greatest strengths are?
A: My strength comes from a childhood of faith, led by my mother, teaching me that God will lead you and take you to places you never dreamed of. It wasn't about me. It was about the Lord, Who chose me to be a husband and a priest, even from my mother's womb. There were times when I hesitated to respond to God's call for fear I might fail Him. God often chooses weak men and makes them strong, uneducated men to give them wisdom, troubled men to bring back to life. A good pastor must become a good shepherd and tend to his flock, not massacre them. When you serve your people with unconditional love, you fulfill your vocation and promises to God and His Holy Church.
I am blessed with my ability to pray, even when I am sad and may not want to pray. I found myself praying and celebrating the sacraments when times were challenging and joyful. I am thankful in my ability to evangelize the Holy Eucharist, embracing that no celebration is the same and that Christ hears our prayers no matter our mood or hesitations.
I also believe one of my strengths is seeking the advice and counsel from my senior priests and the elderly men and women in the parish. I am grateful for those priests who took me as a priest, from the goodness of their hearts and made me a pastor. Life cannot be lived without coaching; for couples and even for priests. Tragedy can fall into your household and church community when you refuse coaching. When a person learns and accepts certain things, and sometimes swallows a bitter pill, they learn it is not all about them.
I learned that a priest does not have a monopoly on good ideas or problem solving. A priest and his parish must share and exchange ideas. A priest needs to empower the community around him to realize their dreams. No one ever challenged my authority on the doctrines of the church or celebrating the Sacraments. I was always able to harness our people's energy and crystallize their dreams. "No servant is greater than his master, nor is a messenger greater than the one who sent him." (John 13:16)
My strength is my ability to realize my weaknesses, my ignorance and limited abilities so I can go and knock on doors to find the answers. My parents always taught me that miracles happen when we work together with everyone, whether on the church side or the other side, to make sure no one was left behind, even those who oppose you.
All my true strengths are truly from my wife Nouhad. She never asked for anything, never demanded of me and my time or questioned how I was going to provide for the family. Parenting was her specialty, along with managing the household. All her attention was on her children and church community. Nouhad never spoke out publicly when things went wrong or tried to defend me. She never argued or tried to put people in their place. She is the quiet force behind everything and I am forever thankful to her as a partner, a wife and a mother.
A house can only become a home when it is an extension of the Church Altar. It is the parent's utmost responsibility to educate and plant the seed of faith in their children. I wish I knew then what I know now. It would have saved me much heartache and many tears, but this was the only way to be born into maturity.
Q: Father George, would you do it all over again?
A: Yes, we have no regrets whatsoever because we corrected our failures and we have grown so much. I am not saying that this journey of 45 years has been easy; that is far from the truth. But I understood and accepted the fact that my vocation, as a priest, has its own challenges, struggles and disappointments. My roles as a husband and father were also filled with their own challenges, but they were never about defeat. Challenging times were a time to grow with God to lead us to a higher ground. Disappointment never stayed with us, but reminded us that the only person who can change is you.
All these blessings come from perseverance, patience and never giving up on your marriage, your church and God. Strength comes from God's love and His grace; for He is always the good Shepherd.
Blessed Augustine said, "To fall in love with God is the greatest of romance; to seek Him the greatest adventure; to find Him, the greatest human achievement." If you believe this, everything comes your way.
I have learned to be a better grandfather than a dad.
I have learned that a priest must be open to learn from the experiences of his flock.
I have learned that education without common sense is nothing.
I have learned that degrees without compassion is ignorance.
I have learned that wealth without generosity is a burden.
I have learned that priesthood without living grace is just an everyday job.
I have learned that tears without love is hypocrisy.
I have learned that youth without direction is destructive.
I have learned that through this journey of 45 years, it is the men and women who have held our hands that shaped our paths.