Fr. George Shalhoub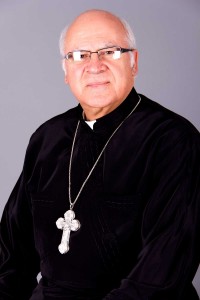 Fr. George Shalhoub was born in Hama Syria to Emily and George Shalhoub, the youngest of 7 children. At the age of 12, he was sent to the Balamand Monastery in Lebanon. Fr. George was ordained a deacon in the Cathedral of the Patriarchate in Damascus, Syria. In 1971, he was sent to the United States. Fr. George is married to Nouhad (Ghareeb) and they have 4 children Lila Zogaib-Lippert and Cameron Lippert with children Andrew and Addison Zogaib and Cameron Lippert, Jason and Andrew Zogaib, Drs. Alex and Melissa Shalhoub with children Olivia, Amira and Nora Shalhoub, Alexa and Marc Nassif with children Sophia and Genevieve and Christa Shalhoub. Fr. George received a Bachelor of Science Degree from Eastern Michigan University in sociology and psychology, a Master's Degree in Theological Studies from St. John's Provincial Seminary and a Doctor of Ministry Degree in Pastoral Counseling from the Graduate Theological Foundation. Fr. Shalhoub is an Associate Professor of Religious Studies and Philosophy at Madonna University and a faculty member of the Antiochian House of Studies. He was appointed by Governor Engler of Michigan to serve on the Mental Health Advisory Board and by Governor Granholm to the commission on Arab and Chaldean American Affairs. Fr. Shalhoub was a Teacher of the Year at Madonna University and gave the Commencement Address to Schoolcraft College's graduating class of 2001. Under his pastoral leadership, Fr. George and a handful of parishioners started St. Mary's mission in 1972. In 1976, they moved into their new church and in 1990, along with the parishioners, Parish Council, Building Committee, Ladies Society, and the Youth, St. Mary's was able to build a Cultural Center. Finally, in 2002, St. Mary's moved into its permanent house of worship, The Basilica of St. Mary Antiochian Orthodox Church where Metropolitan PHILIP proclaimed it, "A new church for a new century."

Fr. Jim King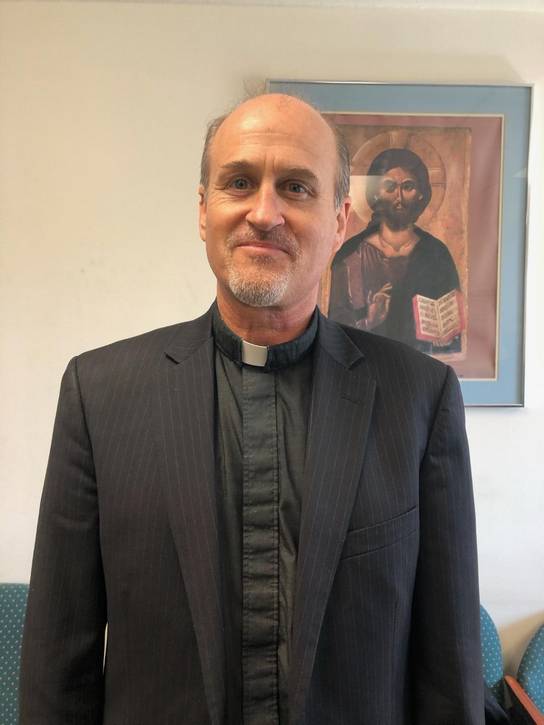 Fr. James was born on April 13th, 1964 to Fr. Jim and Peggy King in Lincoln, Nebraska, although grew up most of his life in Santa Barbara, California. Fr. James embraced the Orthodox faith as part of the Evangelical Orthodox movement in the 1970's. Also part of that movement, Fr. James's father, and uncle were ordained in our Holy Church, his dad a priest, and his uncle a deacon.
In 1993, Fr. James officially began God's ministry in youth work as the Assistant Director of the Antiochian Village, which he did for two years. While at the Village, he met Audrey Ayoub, who he would later marry. Fr. James received his Bachelor's degree in Communications at the University of Nebraska, and in 1994, began seminary at Holy Cross Greek Orthodox School of Theology. While at Holy Cross, Jim was the Assistant Director, and then Director of the Boston Diocese camp for the Greek Orthodox Archdiocese.
In 1995, Fr. James married Audrey, and then graduated from Holy Cross with his Masters of Divinity in 1997. Immediately after seminary, Fr. James moved to Livonia with Audrey and began working as the Youth Director at St. Mary's Church under the direction of Fr. George Shalhoub. Fr. James and Audrey had two children, Zoe and Jimmy while in Livonia, and then moved to Santa Barbara, CA in 2002 where they had their third child, Kyranna. In California, Fr. James worked for the national office of Orthodox Christian Fellowship (OCF), and also worked at the Patriarch Athenagoras Orthodox Institute under the direction of Mr. Anton Vrame.
Towards the end of 2006, Jim moved back to Livonia at the request of Fr. George to take on a new responsibility, the Director of Youth and Outreach Ministry. On Father's Day, June 17th, 2007, Fr. James was ordained to the Holy Diaconate by his Eminence, Metropolitan George of Homs, and to the Holy Priesthood on December 19th, 2011 by Bp. THOMAS.   Since then, Fr. James continues to serve the community of the Basilica of St. Mary. He has started many ministry programs, and unlimited ways for all to become involved with the Church. Through his love for music and skill at the Guitar, he even recorded a children's CD for the Mother/Toddler ministry, which has become a big hit among the young people and their parents.